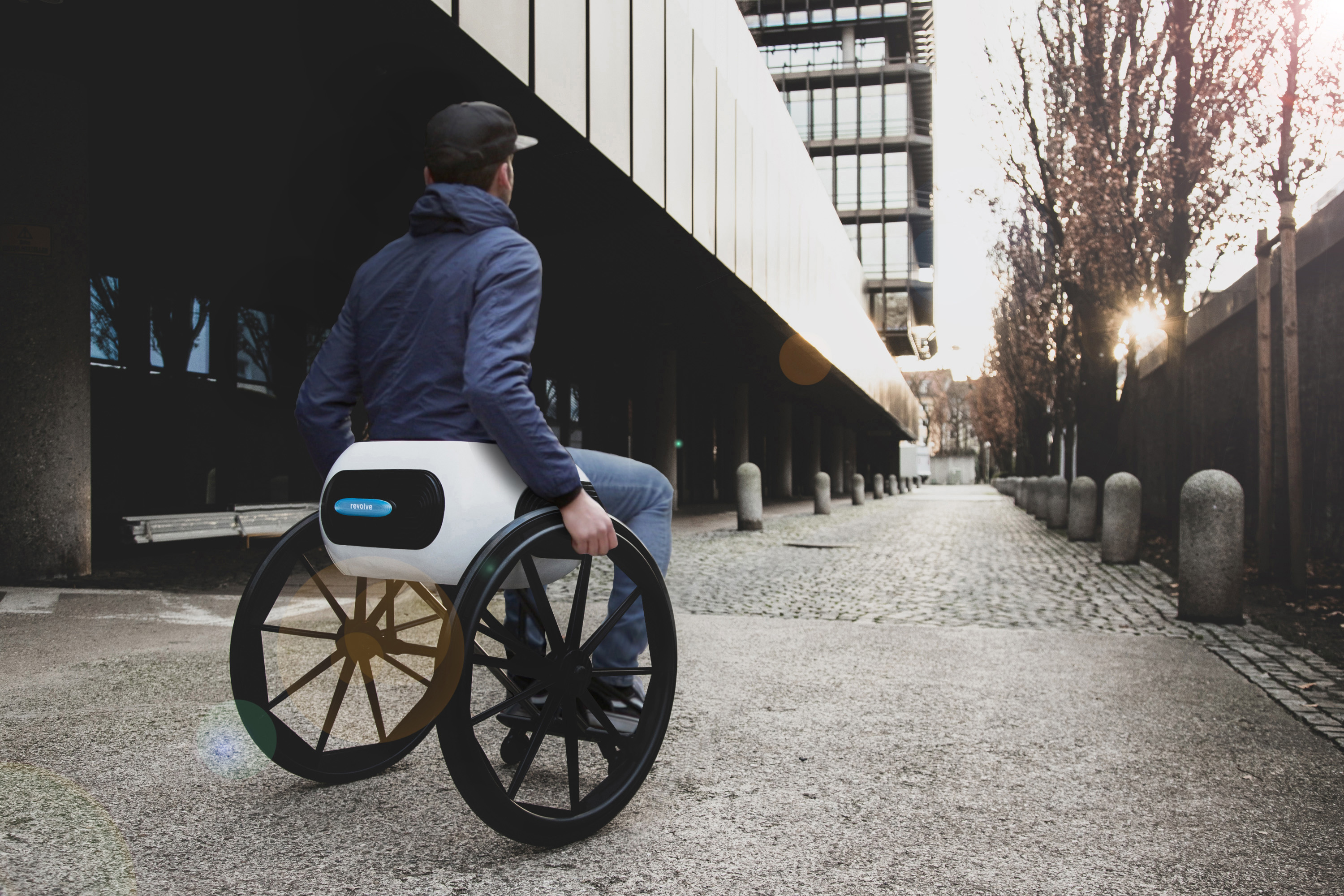 New technical partnership will combine ingenious design with clever use of composite materials and manufacturing processes to create the ultimate lightweight and travel-friendly wheelchair
London, UK: 25th March 2021
Mobility is high on the list for every major corporation and city around the world, but what happens when you become immobile? Andrea Mocellin, founder of Revolve-wheel, took his design understanding and created a revolutionary approach to wheelchair design, with his patented foldable wheel at the heart of the project. The next stage is to make his vision a reality, and high-performance engineering and composite material specialist DEXET Technologies has been brought in as a technical partner to turn the initial designs and demonstrative prototypes into a production-ready solution.
The partnership will see DEXET support Revolve-wheel with its first wheelchair, the Revolve Air, which aims to reduce the amount of time and effort it takes for wheelchair users to travel. Designed to fit into an overhead compartment, the Revolve Air is the world's first active wheelchair that fits the standards of a universal cabin luggage size restriction. Saving 60% of its space when both wheels and frame are folded, the patented wheel design enables a lighter, stronger and nimbler wheelchair to be used in airports and on flights around the world. This ability for the user to easily store the Revolve Air in a small trunk, the passenger seat of a compact car or even in the overhead baggage hold on an airplane, puts the Revolve Air in a whole new category, far ahead of the standard wheelchairs, folding or not.
Launched earlier this year, Revolve-wheel feels it has taken the Air wheelchair design as far as it can go, and as such has partnered with DEXET to transfer the first prototype to a production-ready product. Specialising in mechanical engineering, focusing mainly on Formula One and high-performance automotive projects, DEXET's founding members will transfer their engineering, composite material and manufacturing knowledge to Revolve's Air wheelchair. The team's aim is to incorporate cutting-edge materials and technologies in preparation for full-scale production. 
Commenting on the partnership, Revolve-wheel's Founder Andrea Mocellin said, "At the heart of any project is a team. I've worked by myself on this, supported by Matteo Mocellin for the media side along the way, but never with a formal partnership. Now we know that there's a strong customer base behind us that wants a high-performance, functional and sustainable wheelchair, we are able to take it to the next stage. I knew DEXET was the company I should call and the perfect partner to create the production version our clients will rely on every day. 
"DEXET has the knowledge, experience and credibility to take my vision and make it stronger, lighter, more durable, all thanks to cutting-edge composite materials and manufacturing processes. I'm really excited to see how they will transform the Revolve Air from a prototype to a real-life product."
DEXET's Founder and CEO Francesco Aglietti has been working in Formula One and high-performance industries for over a decade. DEXET's founding members have experience in transforming machines - whether in aerospace, motorsport, mobility or renewable energy - by using composite materials to create structures that are lighter, stronger, more durable and able to tackle some of the harshest conditions and climates. 
Speaking about the technical partnership with Revolve-wheel, DEXET Technologies' Founder and CEO Francesco Aglietti said, "When we first started talking to Andrea [Mocellin], we were not only in awe of his commitment to mobility and enabling a new era of high-performance wheelchairs, but also his confidence in us. Andrea came to us to transform his prototype into a product that needed to be lightweight yet strong, had a quality feel but was also sustainable and built to last. I echo Andrea's comment - I'm excited too, to change people's lives for the better, thanks to clever engineering technology applications and composite materials." 
Finally, DEXET Technologies' Chief Financial Officer Leone Benetton commented on the technical partnership saying, "The future looks very promising for composite materials, but so far the technology is only reserved for high-performance and high-cost products. As a team, we're excited to use our knowledge not just for Formula One and hypercar projects, but also for the development of products within industries that are generally considered to be more traditional. This is where I think the future lies for composite material applications. With Revolve-wheel, we are committed to bringing advancements to mobility for all people, regardless of whether they're able bodied or not."
The partnership between Revolve-wheel and DEXET focuses on engaging and joining forces with individuals, companies and associations who share a passion for improving mobility for all. The plan is to develop and manufacture a limited series of wheelchairs to be tested with potential users and infrastructure around the world. In the future we may see the Revolve Air offered in airports, resulting in more efficient airport operations and a better travel experience for passengers. 
Expect more news about Revolve-wheel and DEXET Technologies' technical partnership soon as they both embark on the journey to production for the Revolve Air wheelchair, aiming to create a revolution in mobility for those in need. To learn more be sure to visit www.revolve-wheel.com and www.dexet.tech